Long Travel Sand Car
This is a long-travel a-arm car. It has 24 inches of travel front and 20+ rear with over 2 foot of ground clearance, and a 100 inch wheel base.
Two or four seat long travel car chassis start at $6,650.
Two seat complete cars start at $17,000.
The cars are available in Chop Top and Hoop style. The Chop Top cars have a sleeker look, the hoop cars are easier to enter and exit.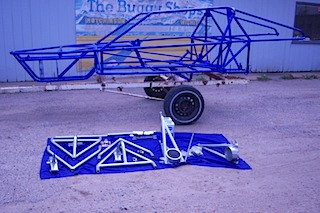 The spindle to spindle chassis shown above includes:
The Frame, Front A Arms, Heims, Misalignment Bushings, Combo Spindles, Center Steer Rack, Tie Rods with Heims, Steering Shaft, Steering U Joints, Quick Disconnect, Aluminum Steering Bearing Carrier, Urethane Bushings, Grade 8 Bolt Kit, 930 Porsche Stubs, Trailing Arm Hardware, Includes 4 Wheel Bearings Spacers and Clips, 3x3 Trailing Arms, 9 Inch Wider Custom Torsion Housing with Adjusters, Torsion Bars, Spring Plates

Since we custom build to our customers specifiations some items shown in pictures are not part of the basic packages.
Due to popular demand, we now offer the following items to help you get that 4, 6 or 8 cylinder non-VW engine in your sand rail.
Custom Fuel Injection Wiring Harnesses and Computer Rework starting at $350
Custom Gas Tanks starting at $140 - Custom Headers starting at $500 a pair
Kennedy Adapters starting at $475 - Custom Transmissions starting at $2000
Call us to get everything you need for your application.