2011 Mid-Travel Street Legal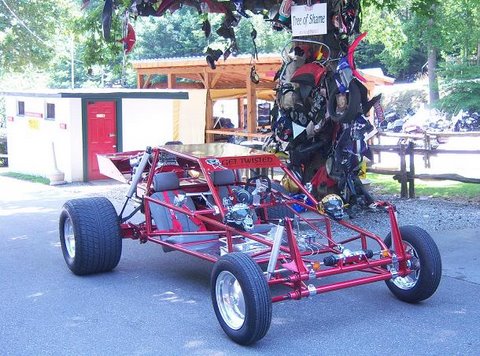 The Dragon Slayer
Two seat mid-travel chassis in street form. 2276 VW engine with Holley Powercharger Blower, bus trans, Porsche 930 CVs.
Picture above is at Deal's Gap, NC in front of the Tree of Shame. The tree is at the start of The Dragon, 318 curves in 11 miles. The tree is decorated with parts of motorcycles that crashed on the dragon.
Check the video section of our site for this car running the dragon.

Dragon Slayer airbrushed by
Salt City Creative

Mid-Tenesse Drag Way
1/8 mile IHRA drag strip

At the TVA Power Generating
Dam on the Caney Fork River

The Tree Of Shame

Pumpkin Center at the
end of The Dragon