Street Legal Buggies start at $11,000.
We provide Kansas Street Legal items and Current Year Assembled Title.

All street legal buggies come equipped with Kansas State mandated equipment such as headlights, turn signals, horn, speedometer and reverse lights.
We are Kansas Newest
Vapor Dash Dealer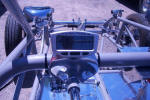 We keep dashs in stock for
immediate shipment.